In the age of technology and convenience, fitness apps have become a popular way for people to stay active and healthy. These apps offer a range of features, from tracking daily steps and monitoring progress to providing custom workouts, these are designed to help you lead a healthier lifestyle. But the truth is, fitness is not a one-size-fits-all approach. And while the number of fitness apps continues to grow, still, none of them is able to give you the freedom to fully customize workout plans to fit your needs or the needs of your loved ones.
Luckily, unlike other fitness apps that provide pre-made workout plans or custom workouts, O'Coach fitness app allows users to fully customize their workouts according to their individual needs and preferences. Whether you want to do HIIT/Stretching/Yoga/Strengthening/Rehab, this app offers the freedom to tailor workouts to your liking.
O'Coach aims to make it fun being active all day!
Overall, the O'Coach custom workout app offers a unique approach to fitness customization that promotes community and support. Let's discuss some of its key features:
Key Features:
1. Manage custom workouts
Managing custom workouts with the O'Coach is simple and easy. O'Coach allows you to create your own custom workout plan whether it's HIIT/Stretching/Yoga/Strengthening/Rehab and schedule as per your choice!
You can easily manage your custom workouts to meet your specific needs and preferences as it lets you:
Add an exercise of your own choice and specify the time limit.
Choose exercises from the exercise library
Choose the length of the rest time as you require
Set the number of exercise rounds and reps
Customize the audio settings
Create schedules and get reminders
Once you've created your custom workout, you can easily manage it within the app. You can also duplicate or delete the workout as needed.
2. Customizable workout timer
Everyone has different fitness goals, schedules, and abilities. This is why a fitness app that allows you to fully customize your workout is essential.
O'Coach offers the ability to customize workouts for your loved ones. Whether you want to create a workout plan for your spouse, child, or friend, this app allows you to create a personalized workout routine that fits your individual needs and fitness goals. This is particularly beneficial for families or groups of friends who want to exercise together but have different fitness levels or goals.
3. Have fun with a community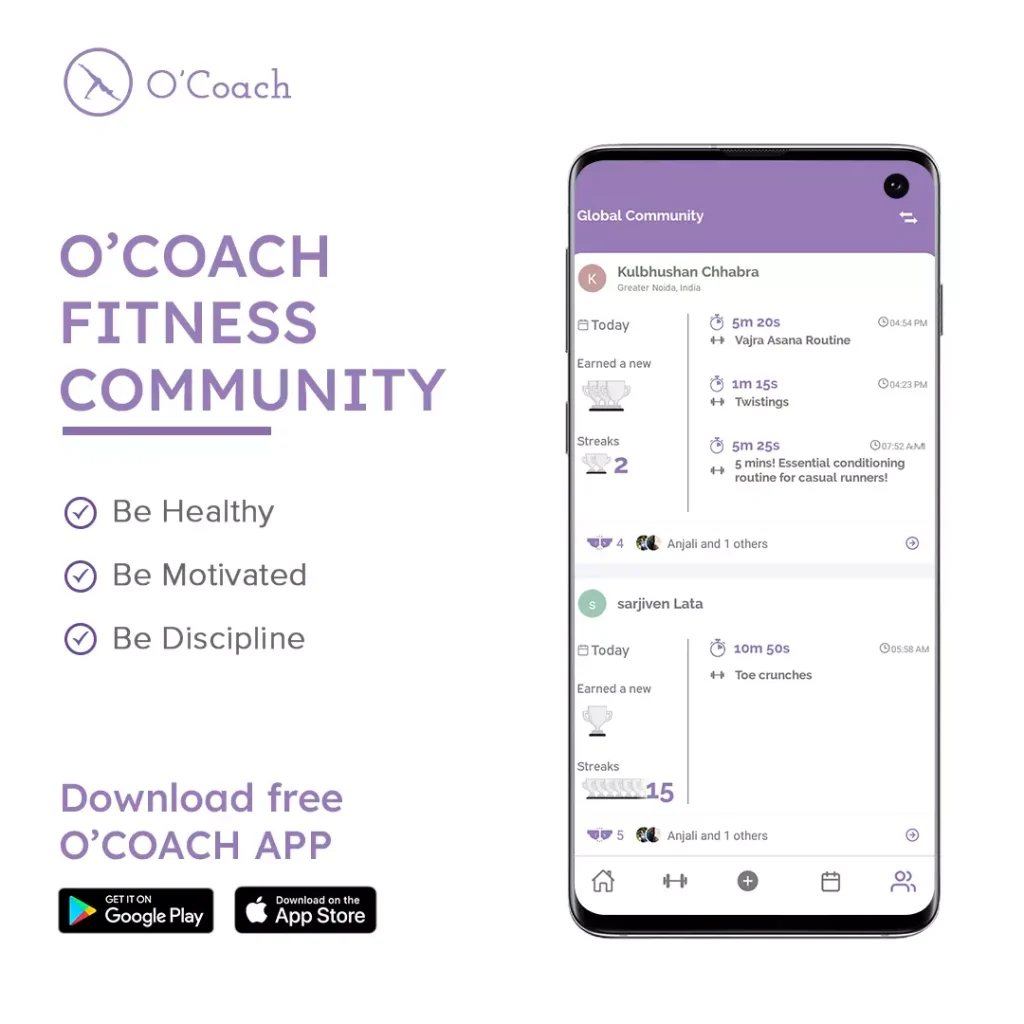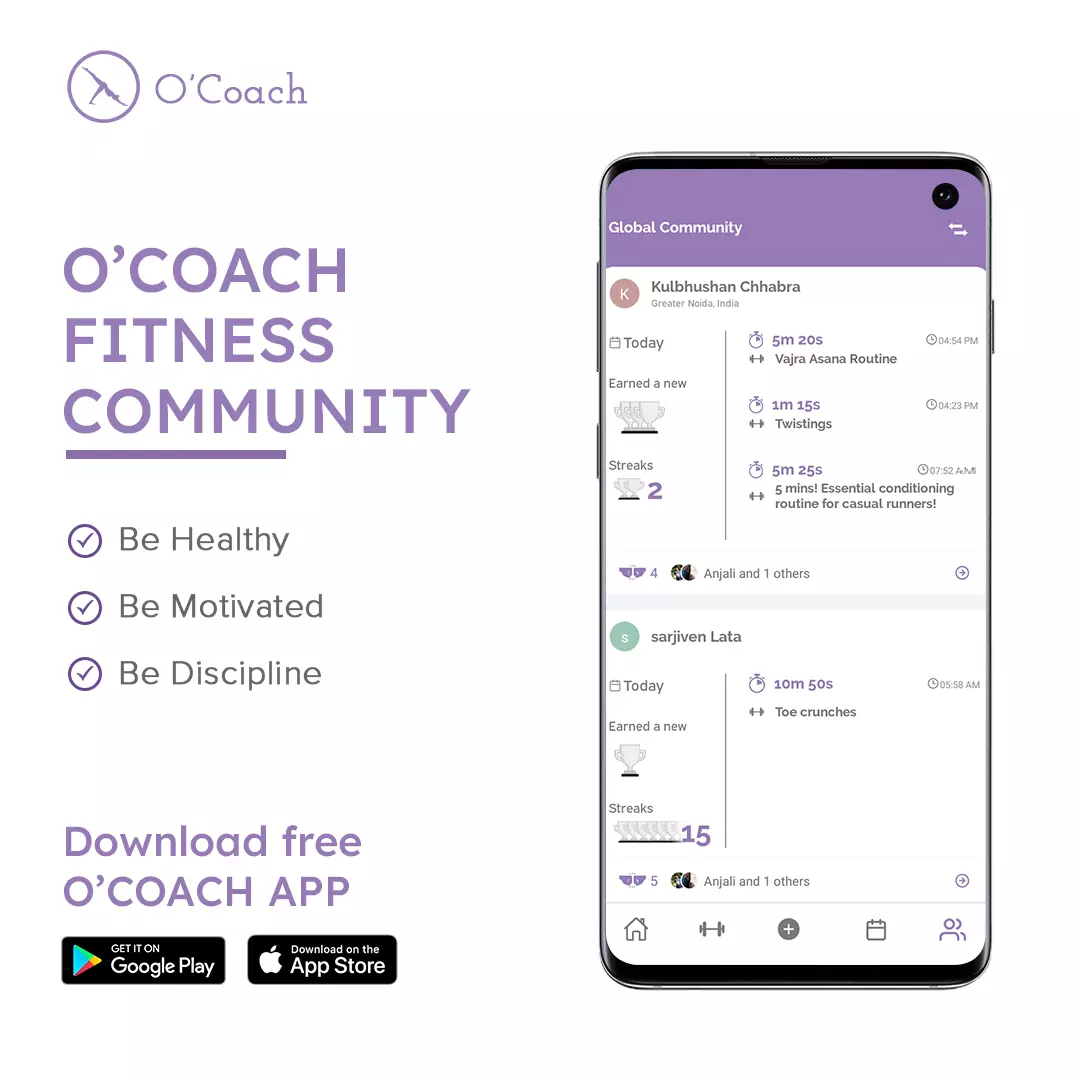 O'Coach app allows you to share your custom timers and workout programs with others globally directly within the app. Plus, you can view workout updates from people across the globe.
O'Coach lets you create your own personal networks/gangs/groups and add your friends or workout partners to target those fitness goals together. And track each other progress in the group.
You can also post your custom workout/training plan completion achievements and trophies to the global community to spread some motivation amoung your friends.
4. Trophy achievements and streaks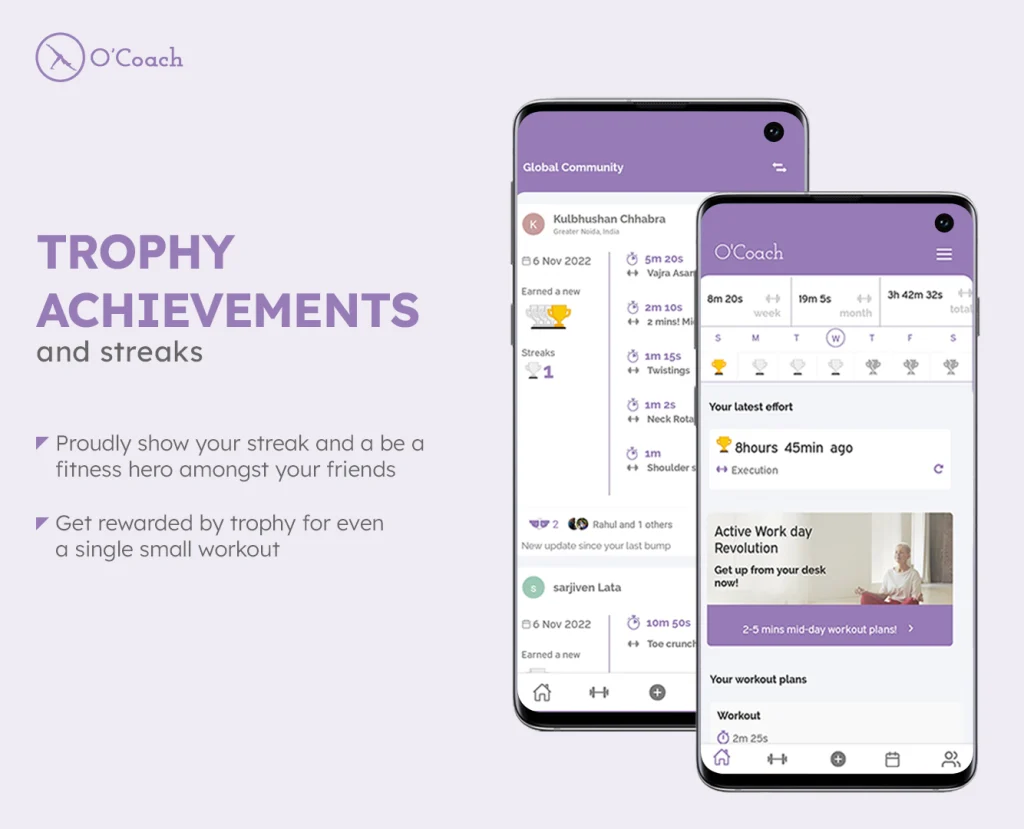 O'Coach provides you with the golden and silver trophies on doing your daily workouts. It helps you stay motivated, engaged, make it easier to stick to their fitness goals over the long term.
To get these trophies you simply just have to do a single small workout.
For every single small workout, you receive a Silver Trophy.
For Golden Trophy you have to do 3 small workouts spread throughout the day, totaling a minimum of 15 minutes
To keep your streak going, simply do your custom workout or you can also perform inbuilt 2-5 mins natural movement programs in the app.
5. Schedule your custom workouts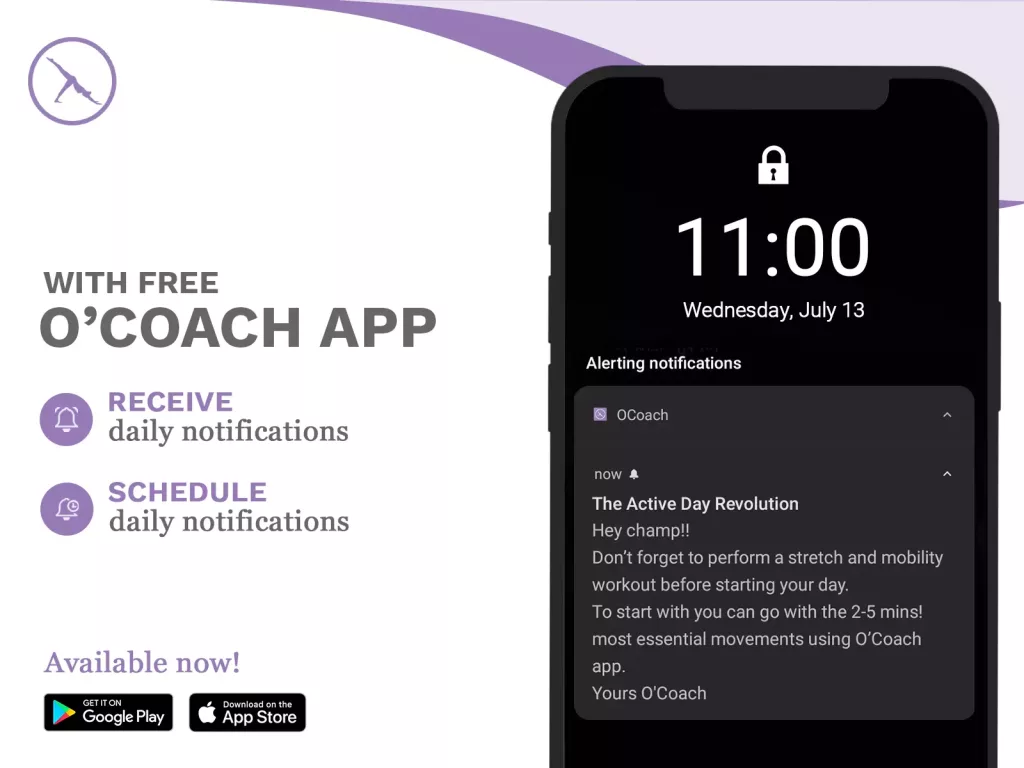 You will receive daily notifications targeting fun natural movement programs, workout motivation and leaving a sedentary lifestyle. These notifications are sent to help remind you to do your daily workout.
However, if you want to get notified at a particular workout time. Then you can also schedule your workout to perform at that specific time. O'Coach custom workout app will send you a notification at your scheduled time. This is especially useful for those with busy schedules, as you can create and schedule a workout plan that fits your schedule and allows you to achieve your fitness goals without sacrificing other commitments.
6. Organize Youtube Videos
You can easily organize and schedule your favorite Youtube Workouts with O'Coach app.
Just find your favorite Youtube workout video.
Click the share button and choose the O'Coach app.
Time the individual exercises for an effective workout.
7. Be a Fitness Hero!
No matter where your friends or training partners are located, you can easily share your custom workout plan with them. O'Coach lets you can share your custom workout with any of your friends on any social platform by using just one link.
Click on the "Share" button located at the top right corner of the screen.
Choose the platform you want to use to share the workout plan, such as email, text message, or social media.
Choose the recipient's email address or phone number and click "Send."
8. Voice guidance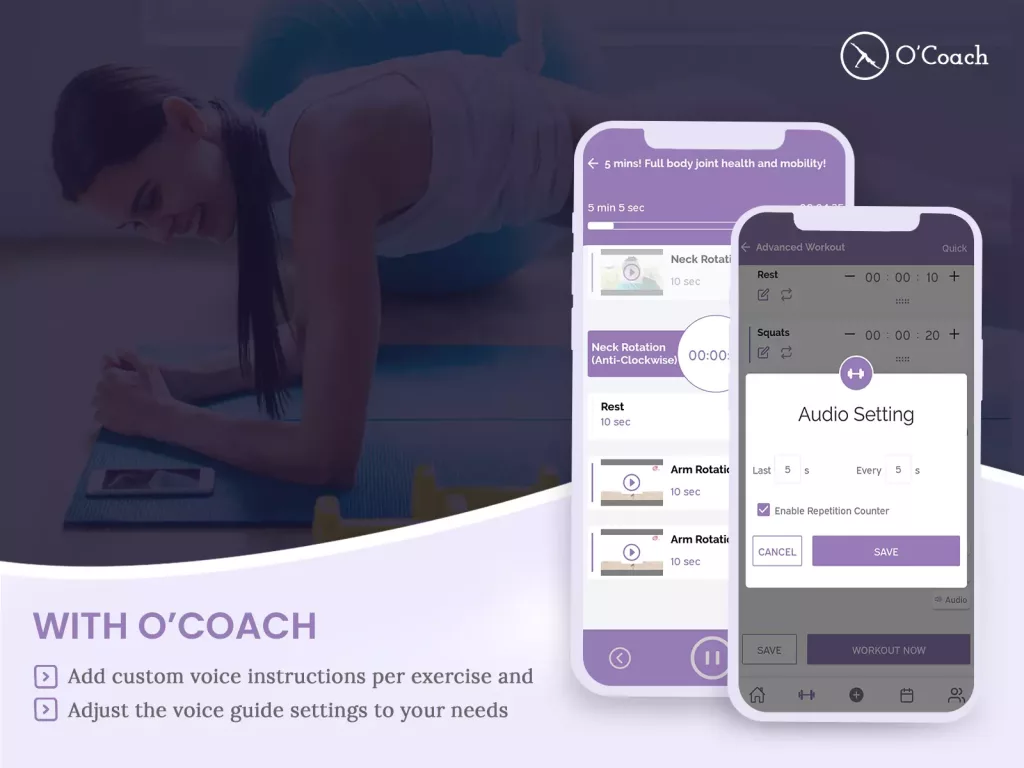 O'Coach custom workout app can provide voice guidance to help users stay on track during their workouts, including announcing the start and end of each timer, as well as providing cues for rest and work periods.
9. Daily workout campaigns/challenges
Participate in a new daily campaign/challenge that will keep you motivated all day. O'Coach comes with a feature where you can participate in challenges given by your group admin. Or if you are an admin of a private group you can create challenges on your own.
These challenges will appear on the top of your private community page and from there any of the group members can participate in the challenge.
10. Natural movement program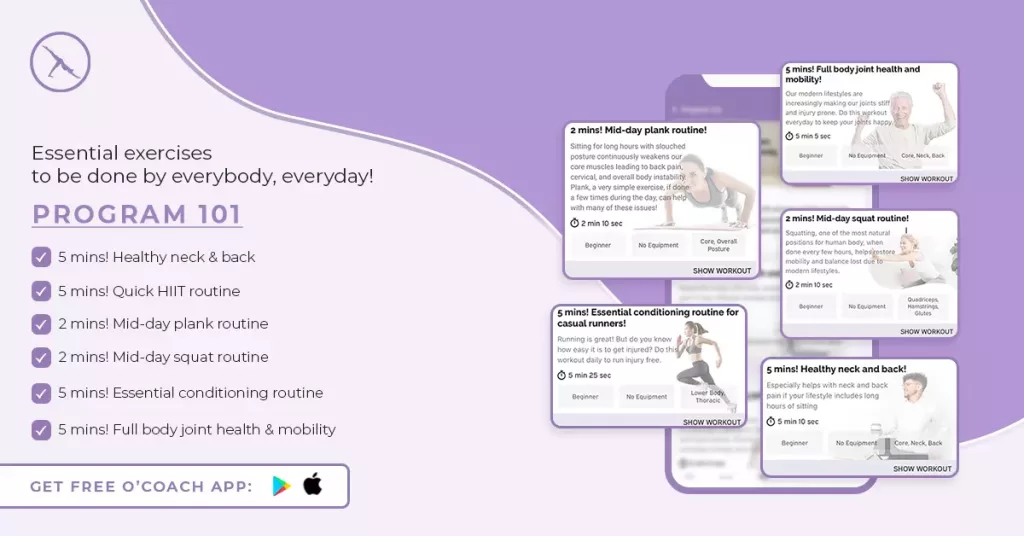 Exercises that should be done by everybody, every day despite your age or fitness level. Essential natural movements program to counter the ill effects of unavoidable modern sedentary lifestyles
A few minutes, every few hrs, is the key to fit and injury-free body!
Try our app today and experience your customized fitness routine.
Related posts